British Homeowners like nothing more than to carry out home improvements to add value, improve their living space and create kerb appeal.
But have you ever thought that it can also have a positive impact on your wellbeing too?
Here's how:-
Safety First
If you have small children or pets you'll be well aware of the dangers of a raised terrace or an unsafe balustrade. Sunrock's Infinity Glass Balustrades and Juliet Balconies act as an attractive barrier to prevent accidents. They are built to UK Building regulations so your mind can be put at ease that your family will be safe.
The UK's Building regulations are minimum standards for design, construction and alterations to virtually every building. They are developed by the Government and approved by Parliament to ensure the safety and health for people, including those with disabilities, going in or about those buildings.
As an example, we follow the main regulations for balustrades below:
Balustrade will be minimum 1100mm high from Finished Floor Level.
At 1100mm height there is no more than 25mm deflection with a load of 0.74kn.
There will be no gap in the balustrade that a 100mm diameter ball can fit through.
If there is no handrail then Toughened Laminated Glass is used to provide a barrier if one of the panes are broken.
Sunrock's Infinity Glass Balustrades can transform a terrace from what could be an unusable space to one that will provide a safe area with the added benefit of being shielded from the wind.
In addition, our new Infinity View Juliet Balconies provide a safe way to fill your room with light and fresh air too.
Sunny Situation
We all love the sun – it has a huge impact on our mood and also boosts health and wellbeing. The vitamin D derived from sunlight boosts the immune system and UV promotes the production of serotonin which improves our mood and levels of energy. Our Infinity Glass Balustrades and Juliet Balconies allow large amounts of light to flood into the room compared to wooden fence or metal railing so they have a positive impact on your outlook in more ways than one!
Feel at Home
For smaller gardens, our Infinity Glass Balustrades really come into their own. They are the ultimate design feature for breaking down visual barriers between your indoor and outside living areas. Beautifully designed they create a feeling of space from inside as well as providing more living space outside. This will help to change your lifestyle by giving you the opportunity to really maximise your garden, giving greater access to a pleasant and useful space so you can feel good about your home.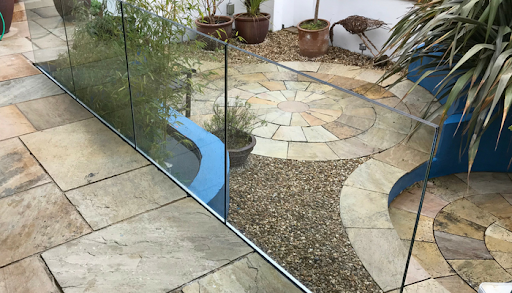 Having read this you may want to tap into the feeling of wellbeing and let Sunrock Balconies make the difference you are looking for – Add style, function and appeal to your home and bring the outside into your home today. Get in touch – we'd be happy to answer any questions or discuss a job you have in mind.